1883 Antonio de Torres "SE 49" SP/MP (ex Francisco Tárrega)
| | |
| --- | --- |
| Year | 1883 |
| Top | Spruce |
| Back & Sides | Maple |
| Scale Length | 650 mm |
| Nut width | 50 mm |
| Finish | French Polish |
| Country | Spain |
| Luthier | Antonio De Torres |
This guitar is no longer available in our inventory. If it interests you, click the "notify me when available button" to be notified in the event that we re-acquire this guitar for re-sale.
Description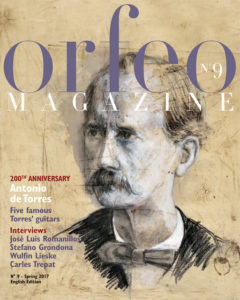 This instrument, built in 1883 and numbered #49 from Torres' "Second epoch", was built for the great Francisco Tárrega and indeed was the 2nd of 3 Torres guitars that Tárrega would own in his lifetime. After Tárrega's death in 1909, "SE 49" would be the last of the 3 Torres to be sold by his family, in 1944. According to Jose Romanillos, it seems likely that this guitar in 1883 was intended to be a fresh replacement of Tárrega's first (and very cherished) Torres ("FE 17" from 1864). Like the 1864 guitar, "SE 49" was built with flamed maple for the sides and four-piece back, and is decorated with some of the same inlay materials in the rosette and top purfling. But "SE 49" is a slightly larger instrument than "FE 17" and was not originally fitted with a tornavoz. "SE 49" also has no decorative inlays in the head or back, but has some other surprising details, perhaps most notably the addition of "fish" MOP inlays in the wings of the bridge. This guitar, in its present state, is in excellent, concert-ready condition. The most recent repair work was done meticulously by luthier Alan Perlman, who restored the fish inlays in the bridge as well as re-secured some previous repairs in the body of the instrument. He also replaced the failing original machines with a custom set of Rodgers. His finish work was done without disturbing any of the existing thicknesses and to avoid removing any wood - most notably, Alan took extra care to mask off several areas where Tárrega's famous "cigarette" burn marks were still present in the wood and treat them with utmost care as to not remove them. Regarding these cigarette burns, Romanillos provides some additional, charming insights:"There are several marks where the wood has been burned, probably the result of cinders falling from the cigarettes Tárrega smoked while playing the instrument. SE 49 bears these marks, undoubtedly resulting both from the artist's complete absorption in whatever piece he was playing and from the poor quality of the tobacco and the coarseness of the cigarette paper! Not only the protective coating of varnish was burned but also the very wood. The cigarette tended to burn unevenly, catching alight in some parts and not others, causing particles of smoldering tobacco to fall onto the upper rib of the guitar. In one photograph published in Pujol's book, Tárrega can be seen in the middle of a rendition of some musical passage and, hanging from his lips half-hidden under his beard is an unevenly burnt cigarette. A compulsive smoker, Tárrega was never without a cigarette, be it during his private recitals or during his public concerts. The music critic for the magazine Ilustracion Espanola y Americana remarked that not only could Tárrega perform passages with only the left hand but he also allowed himself the luxury of smoking while he played."
As with all great Torres, words are simply inadequate in describing just how rich and harmonious the sound is - whether in the beauty of single pitches in a melodic phrase or as the blended fusion of notes in counterpoint or chordal harmony. And there is also the other-worldly sensation of playing the guitar as it vibrates against the players body - a tremendous experience which is only possible with an instrument such as this in ones bosom. This experience is confirmed over and over again with every Torres we see, particularly with something as profound (and historically significant) as this guitar. We are all amazed here to have it in our collection here at GSI and we will be planning several projects with it in the coming months to demonstrate, film and showcase it, hoping to do justice to its legacy as one of the foundational instruments in the history of the classical guitar.
For more information on the life of Antonio de Torres, be sure to read this short biography and this excerpt about the Torres sound from the Jose Romanillos book, "Antonio de Torres". We also have an interview between Pepe Romero and Kenny Hill about the master luthier.
Orfeo Magazine #9 - The 200th Anniversary of Antonio de Torres
Videos
Guitars by Antonio De Torres