Twanguero - Spanish Latin Grammy Award-winning Guitarist and Composer Visits GSI!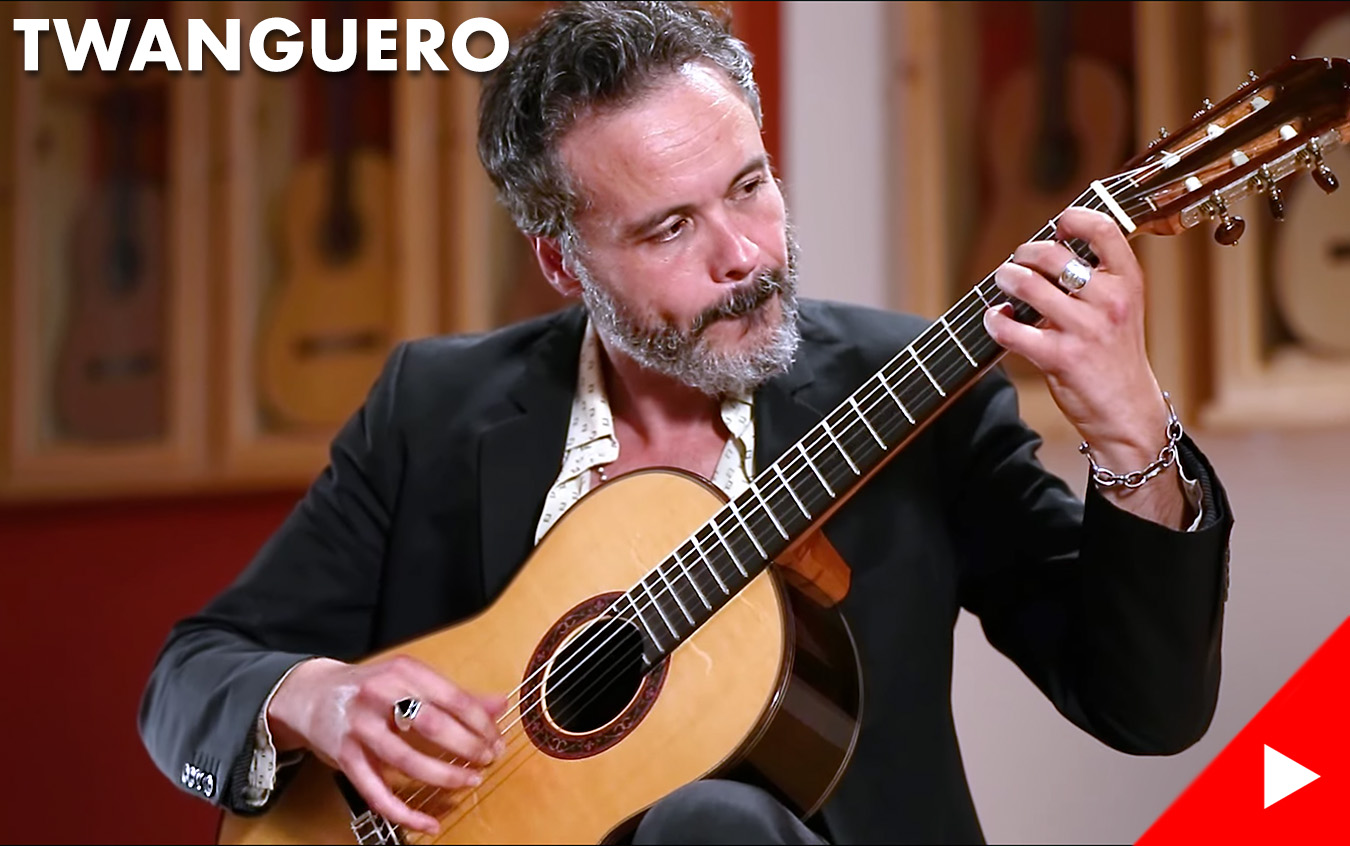 We have for you a set of new guitar videos recorded by Latin Grammy Award-winning guitarist and composer, Twanguero!
Twanguero is originally from Spain. He started his musical education in Valencia at the age of six studying with José Lázaro Villena, a former student of Andrés Segovia. However, instead of taking a fully-classical musical path as a student, he formed his first rock band at the age of 13, and at the age of 20 moved to Madrid where his solo career thrived. Nowadays, Twanguero is an internationally renowned artist.
During this recent visit, Twanguero focused on recording only his own compositions. He started with "Blues Del Cafetal" on a 2005 Gregory Byers SP/CSAR guitar. This instrument features an asymmetrical 6-fan bracing system with treble stiffener, giving it an open, loose, and warm quality to the tone. Next, Twanguero played "Canela Y Limón" on a 2006 Luigi Locatto SP/IN. This guitar has some elements taken from guitars by Spanish makers of the early twentieth century - Ramirez, Garcia, Hernandez, and Esteso. Locatto's goal in this guitar was to reproduce the quality of guitar sound from the "golden age". As the third piece, Twanguero recorded "Lullaby" on a 1987 Manuel Contreras "Double Top" CD/CSAR. The name of this model, "double-top", is actually a slight misnomer: in Spanish "tapa" means "cover" and actually refers to an additional piece of wood that is "covering" the inside of the back. So in reality, the back (not the top) is doubled-up, with a rosewood exterior and cedar interior (the two pieces of wood being glued together. In the next video, Twanguero plays "Samba de la Jungla". For this recording, he chose a 2004 Paul Fischer "Premier Taut" SP/CSAR guitar. This is the "Premier" version of Fischer's well-known and innovative "Taut" model, which features a unique internal lattice-bracing system. Twanguero finished his recording session with "Pampa" on a 1994 Jose Ramirez "1a Especial" guitar. This Ramirez model, "Especial", has all the standard features found in the regular "1a" model but with one subtle difference - it is built with solid rosewood sides (as opposed to having the cypress lining found in the "Traditional" models) which gives the tone a bit more clarity and brightness, particularly with the sound coming out of the box.
You can obtain copies of Twanguero pieces on his website (click here).
Leave a Comment