Classical Guitarist and Soprano, Alexandra Iranfar-Viloteau, Records Five New Videos at GSI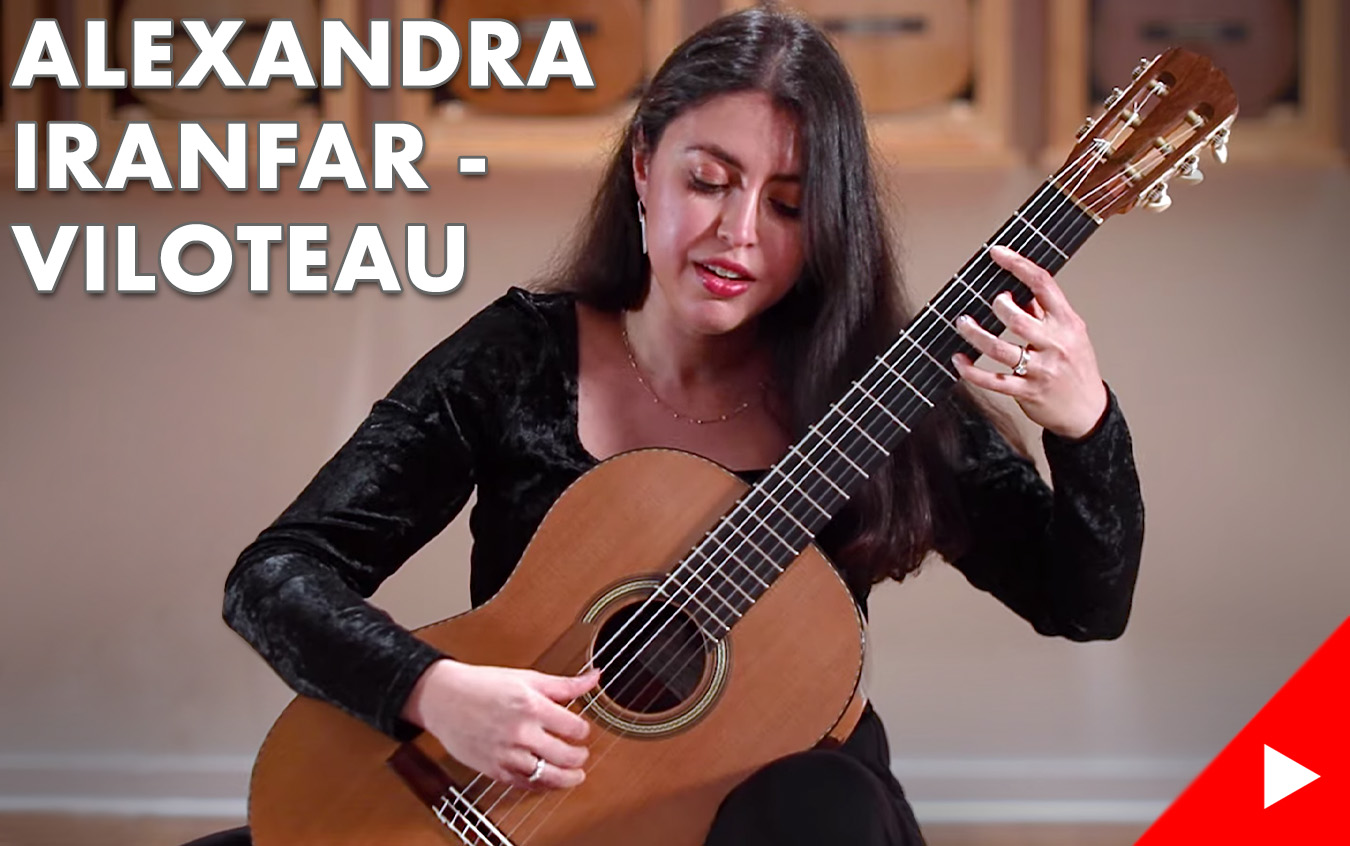 Recently, we've had the privilege of recording a phenomenal artist - Alexandra Iranfar-Viloteau who not only plays the classical guitar but also is a professionally trained soprano. Alexandra is based in San Francisco, CA. She is an active soloist and a member of many collaborative projects. She is a founding member of the SopraDuo ensemble with whom she released two albums. Alexandra studied with Grammy Award-winning guitarist and composer, Sérgio Assad at the San Francisco Conservatory of Music, where she received her Master's degree in classical guitar. Before that, she double-majored in classical guitar and classical voice at the Peabody Conservatory of Music of Johns Hopkins University in Baltimore. Currently, Alexandra is working at the California Conservatory of Music and serves as a Co-Artistic Director of the Peninsula Guitar Series.
During her recent visit to our showroom, Alexandra recorded five videos. They all feature songs Alexandra sang with the accompaniment of her own guitar playing. Her session at GSI started with the recording of "Modinha (Seresta No. 5)" by Heitor Villa-Lobos. For this piece, Alexandra picked a 2022 Wolfgang Jellinghaus "1912 Ex-Segovia" SP/IN. This guitar is a tribute to the 1912 Manuel Ramirez guitar built by Santos Hernandez, a guitar famous for being played by Andres Segovia during the first 25 years of his career. Next, Alexandra performed two songs by a Renaissance composer, John Dowland - "Can She Excuse My Wrongs" and "Flow My Tears". Alexandra recorded them respectively on a 2020 Jean-Noel Rohe SP/CSAR and 2005 Antonio Marin Montero SP/CSAR. With these two pieces, Alexandra showed her playing and singing skills in a completely new light and chose two excellent instruments for her accompaniment. For her next video, Alexandra chose a 2011 Pepe Romero CD/AR previously owned by maestro Angel Romero and recorded Manuel De Falla's "Canción" from "Siete Canciones Populares Españolas", arranged by Miguel Llobet and Emilio Pujol. As the final piece of her recent recording session, Alexandra recorded Sergio Assad's arrangement of "Todo O Sentimento" by Chico Buarque. She recorded it on a 2022 Giovanni Tacchi CD/IN. This is our first video recorded on a guitar from this maker. Giovanni is the son of Andrea Tacchi.
You can listen to all of Alexandra's recent GSI videos below!
Leave a Comment